Minggu Sains Negara 2021 (MSN 2021) anjuran Kementerian Sains, Teknologi dan Inovasi (MOSTI) dengan tema 'Sains Untuk Kesihatan' yang berlangsung selama 7 hari telahpun melabuhkan tirainya pada 7 April 2021.
Green Cities and Construction Research Group (GCCRG), Fakulti Teknologi dan Informatik Razak (FTIR) turut dijemput oleh pihak MOSTI dan rakan strategik, Kementerian Pendidikan Malaysia (KPM) dan Pusat STEM Negara untuk menjalankan aktiviti interaktif bertemakan pendidikan sains, teknologi, kejuruteraan dan matematik (STEM) secara dalam talian sepanjang tempoh MSN 2021.
Program ini adalah bagi menyemarakkan aktiviti inovasi dan kreativiti negara selari dengan Pelan Tindakan Dasar Sains, Teknologi dan Inovasi Negara (DSTIN).
"Ask Dr STEM!" yang dibiayai sepenuhnya oleh Institution of Engineering and Technology (IET) Malaysia Local Network terdiri dari enam modul interaktif iaitu I Want To Be An Engineer!, Ask Dr Concrete!, Ask Dr Aero!, Ask Dr Solar!, Ask Dr OTEC! dan Ask Dr I4U!.
Keenam-enam modul ini merangkumi semua bidang kejuruteraan asas, iaitu kejuruteraan awam, kejuruteraan mekanikal, kejuruteraan elektronik dan elektrikal, kejuruteraan kimia dan Industri 4.0. Ask Dr STEM! yang menyasarkan pelajar-pelajar dari Tahun 1 hingga Tingkatan 5 telahpun merekodkan penglibatan seramai 6,688 orang pelajar dari 145 buah sekolah di seluruh Malaysia.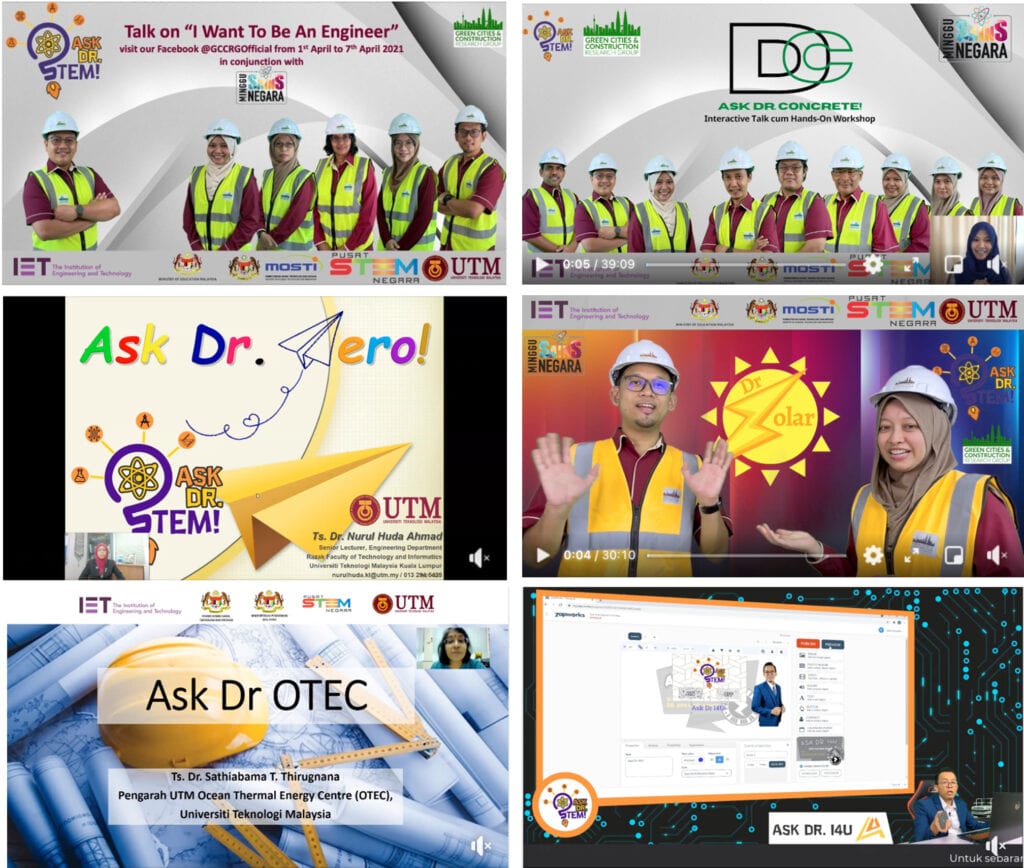 6 modul "Ask Dr STEM!" yang ditonton oleh lebih 6,000 pelajar dari 145 sekolah di seluruh Malaysia sepanjang Minggu Sains Negara 2021 dari 1 April hingga 7 April 2021
Ask Dr STEM! bermatlamat untuk memperkenalkan kepentingan bidang kejuruteraan kepada pelajar-pelajar sekolah bagi mendorong pelajar, sekolah, guru dan ibu bapa untuk memperoleh pengetahuan praktikal mengenai kejuruteraan sebagai subjek STEM responsif yang dapat diterapkan dalam aktiviti kehidupan harian mereka.
Setiap modul yang mengambil masa antara 45 minit hingga 1 jam 20 minit dimulakan dengan ceramah interaktif dan demonstrasi kit kejuruteraan, dan diakhiri dengan kod QR untuk diimbas oleh para peserta untuk menjawab soalan-soalan berkaitan dengan video yang ditayangkan.
Selain dari pensyarah dan pelajar dari FTIR, Ask Dr STEM! turut melibatkan pensyarah dari Fakulti Sains Sosial dan Kemanusiaan dan UTM Ocean Thermal Energy Centre (OTEC) serta kakitangan kumpulan pengurusan dan profesional (P&P) dari Pusat Jaringan Komuniti dan Industri (CCIN) dan Pusat Pengurusan Makmal Universiti (PPMU) UTM KL.
Walaupun masih berada dalam era pandemik COVID-19, Ask Dr STEM! telah berjaya mencapai objektif menyokong pembelajaran dalam talian atau jarak jauh bagi memastikan bahawa sekolah, guru, ibu bapa dan pelajar disokong dengan sumber pendidikan STEM secara percuma untuk terus memberi inspirasi kepada para pelajar untuk menuntut ilmu walau di manapun mereka berada.
Ask Dr STEM! turut menyumbang dalam mempertingkatkan bilangan pelajar yang memilih jurusan STEM selaras dengan agenda STEM negara ke arah menjadikan Malaysia sebuah negara berteknologi tinggi.